هذا جدول قمت بعمله شخصيا ( مع العلم انه سبق ووضعته في منتدى اخر )

وهو لمواسم الصيد في البحر الاحمر

وقد استندت في عملي هذا على عدة جداول وجدتها في مواقع مصريه تهتم بالصيد في البحر الاحمر
1

2


واتمنى ان تكون معلوماته صحيحه
وما انا الا مجتهد للفائده
تحياتي للجميع
عبد الراضي  و
الريس شحيتو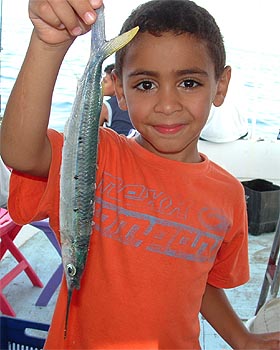 Nothing compares to fishing the Red Sea" say pros and amateurs who try it!
Although not considered a big game fishing water body, the Red Sea is "active" almost year round, making it one of the most interesting fishing destinations on earth; especially if compared to other, more "seasonal" destinations. Probably relative calmness, diversity of species, rich bottom structures, and the warm climate contribute to this.
Red Sea and Gulf of Suez fishing trips range from day charters to 7d/7n non-stop safaris. Longer time not only means more time to enjoy fishing and better chances to catch, but also possibility to reach remote and more rewarding fishing spots.
Depending on take-off point (e.g., Hurghada, Sharm El-Sheikh, Marsa Alam, Gulf of Suez, or wild south,) some good fishing spots may be as close as 2 hours or as far as 6 hours from the marina. Ideal bottom structures in the Red Sea make still fishing, trolling, vertical jigging, and poppwering rewarding. As with most water bodies on earth, early morning and late afternoon are known to be exceptionally rewarding on the Red Sea

Game Fishing egypt  read sea GT or Giant Trevally vertical jigging
We offer a variety of fishing charter options in the red sea egypt, with options from day trips for first timers through to 7 day monster GT and Dogtooth all inclusive package adventures including accommodation and transfers covering Ritchie's Archipelago and the South red sea egypt. . Leave us a message to join in on a Charter or to find another angler to fish with.
our Aim is to provide you with  the best Game and Sport charters available anywhere. Our environmentally friendly catch and release techniques ensure we hand over to the next generation one of the most addicting of sporting pastimes. We fish some of the most remote pristine reefs and islands to be found anywhere in the world.
Today what we have on offer is truly the one of the last bastions in sport fishing a place where no commercial fishing is allowed.